News
[6/20/2017] "RNA Activation", the first book on RNAa edited by Long-Cheng Li, was recently published by Springer Nature.
About this book:
This book offers an essential guide to RNA activation (RNAa), an emerging and fascinating new field. RNAa is a small RNA-guided and Argonaute-dependent gene regulation phenomenon in which promoter-targeted short double-stranded RNAs (dsRNAs) induce target gene expression at the transcriptional level. It occurs primarily in the nucleus and can be mediated by artificially designed short duplex RNAs that target regulatory sequences (e.g., promoters, genes' 3' termini and enhancers) and naturally occurring small RNAs (e.g., miRNAs and C. elegans 22G-RNAs). With contributions from internationally respected RNA experts, this book provides comprehensive coverage of different RNAa mechanisms and a timely update on recent advances in RNAa research, with a focus on developing RNAa-based therapeutics. Special chapters are also devoted to the topics of gene activation induced by antisense oligonucleotides and the CRISPR system. As the first book to cover RNAa, it will be of interest to a wide audience, from scientists in academia and the pharmaceutical industry to clinicians who wish to further explore the biology of RNAa and related phenomena, so as to harness their full potential for use in biotechnology and drug development. Read more about this book or buy it from Amazon.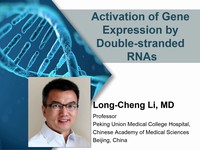 [April 30, 2017]
Henry Stewart Talks
which publishes animated audio visual presentations by world leading experts published a lecture by Dr. Long-Cheng Li. This lecture entitled "Activation of gene expression by double-stranded RNAs" was recorded at the invitation of HS Talks. Click the image on the right to view the lecture (Subscription is needed).
[11/18/2014] MiNA Completes Exclusive License Agreement with University of California San Francisco.
LONDON--(BUSINESS WIRE)--MiNA Therapeutics, the pioneer in RNA activation therapeutics, announced today that it has completed an exclusive license agreement with The Regents of the University of California relating to intellectual property rights developed by the Li lab at UC San Francisco (UCSF).
[12/1/2009] Vera Huang won a Prostate Cancer Training Award from Department of Defense (DOD) Prostate Cancer Research Program (PCRP). Congratulations!
[11/9/2009] Shangchen Ren from our lab won the BEST Presentation Award awarded by ARTP (French association for Prostate Cancer Research) at 8th World Congress in Urological Research organized by SBUR and ESUR and held in New Orleans between 11/5 and 11/8 for his work entitled "RNAa-mediated NKX3-1 activation inhibits growth of prostate cancer cells".
[9/24/2009] Today NIH announced the recipients of 42 NIH Director's Transformative R01 (TR01) awards. One was awarded to Dr. Long-Cheng Li and Hao Li to study the molecular mechanism and design rules of RNAa. Click here to read more about this project.
[5/1/2009] Our lab has just moved from UCSF Parnassus campus to its new home in the brand new Helen Diller Cancer Research Building at UCSF Mission Bay campus. Read more.
[8/4/2008] Alnylam Consolidates Intellectual Property for RNA Activation (RNAa)... Read more...